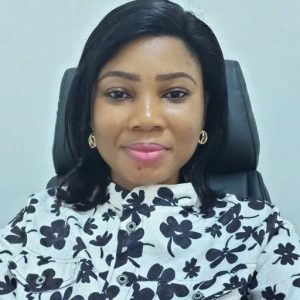 Founder: The HINDSIGHT DEV. ORG.
Host: FOR THE LOVE OF COUNTRY
Coach: GROWTH GOALS
Mentor: RAISING REFORMERS 
Entrepreneur: LEADSCOPE CONSULT 
My name is Atinuke Odjenima. I am a Transformational Growth Catalyst, living to catalyze the life of INDIVIDUALS, ORGANISATIONS & NATIONS to BE, DO & BECOME.
Is to see people/organisations/Nations grow & become, through continuous learning, selfless leading, Loving daily & living forever. 
"To equip people for growth, ensuring they become their truest & finest version, making them effective & productive in their various life roles while transforming their spaces & places. 
My Message: LOVE, LEAD, LIVE
To live & lead a meaningful,  prosperous life only in Love, now & forever! 
My Philosophy: LOVE IS THE LIGHT THAT LEADS
I see all things only through the prism of Love. My truth is Love, love gives light, light gives life meaning and God is Light, God is Love! 
My Tagline: Radiating God's Glory, living THE LIFE!
I am of my Father, Master & Maker. Created in His Image & Likeness. I have found my place in God and so I live the life He designed for me. 
My Motivation: Significance, Fulfillment, Freedom 


My Interest: Leadership Dev. ( Personal, Organisational & National) 


My core values: Love, Excellence, Discipline, Integrity 
I am a BUILDER and an EQUIPPER, helping to define capacity, develop capability for growth inorder to live maximally & fulfill God's intent for life and establishing God's Kingdom on Earth. I am a change agent, God's Ambassador on Earth, called to SERVE you. 
Called, Chosen and Anointed to catalyze your growth by helping you to:
DISCOVER (Passion, Gifts/Talents, Personality, Purpose),
DEVELOP (Skills, capacity, competence, character),
DEPLOY (Productivity, Profitability, Prosperity, Posterity) 
I Speak | I Coach | I Train | I Consult
It's my Joy to serve you!