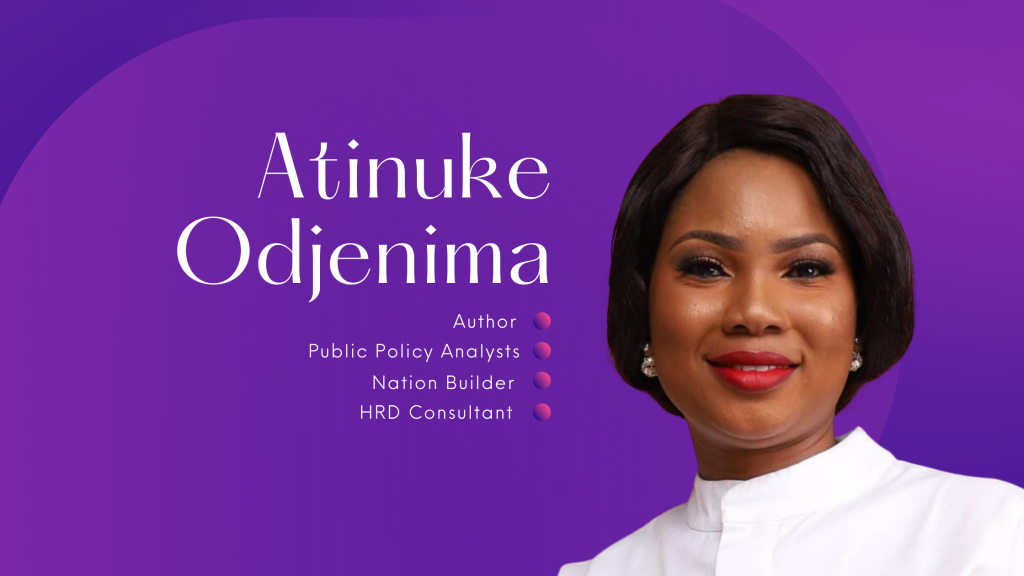 Atinuke Odjenima, is a Human Resource Professional , the principal partner of Leadscope Consult International, (a Business Management Consultancy and Training firm) where she helps SMES structure & manage their businesses for effectiveness, Profitability & Growth.
She owns a children fashion brand, that stocks ready to wear African prints.
As a Nation Builder, she expresses her passion for good governance and Leadership on the platform of the Hindsight Development Organisation ( a non profit leadership & Nation Building Organisation) saddled with the responsibility to raise, nurture & groom a new cadre of African leaders who will build their families, communities, their Country and positively impact their World with the leadership Orientation mindset of  "To Lead is to Love"
She is the Host of "FOR THE LOVE OF COUNTRY" a media program that aims at the engagement of developmental conversations & re-orientation to generate actionable steps that will catalyse Nigeria's development.
As a passionate Transformational Growth Catalyst, through her coaching platform,  GROWTH GOALS, Atinuke catalyses the life of others to Do, Be & Become. Helping individuals in their journey of being their truest & finest version, equipping them for personal Effectiveness, Growth & Transformation.
For this same reason and for the love of country,  she yearly mentors over 400 REFORMERS, young women & men who are radically, unconventionally & resolutely committed to building & sustaining Africa's Super Power House- Nigeria.
She is a budding POLICY ADVISOR/CONSULTANT, helping to identify, develop & evaluate Old, new & existing Policies on social issues for positive & impactful Social, economic & Political changes & development.
Atinuke Odjenima is  a passionate lover of God & life, called & living to serve Individuals, Oganisations & Nations. Equipping them to build capacity for growth & Transformation to fulfill purpose and establish Gods Kingdom on Earth.
She is happily married & blessed with Children.